1985 TO 2004
REBIRTH AND MODERNITY
Under the new ownership of Techniques d'Avant-Garde business group, TAG Heuer made the transition from a brand associated with mechanical chronographs to a company designing watches for the 21st century.
Models developed in the 1980s became the mainstays of today's TAG Heuer catalog.
1985
In the early 1980s, Heuer announced six unique functional features that would characterize its new series of dive watches. Four features are specifically identified with diving – 200 meter water resistance, a screw-down crown, a unidirectional bezel and a double clasp on the steel bracelet. Sapphire crystals and luminous markings ensured the utmost legibility. These features have been carried forward to today's Aquaracer.
1986
In 1983, TAG Heuer responded to the introduction of a new paradigm in the world of watches, with a revolutionary collection of its own: the TAG Heuer Formula 1. The TAG Heuer Formula 1 offered the same style of bright colors, plastic cases, simple quartz movements and fun packaging. True to its dive watch heritage, the TAG Heuer Formula 1 had 200-meter depth rating and bezel, marked in minutes.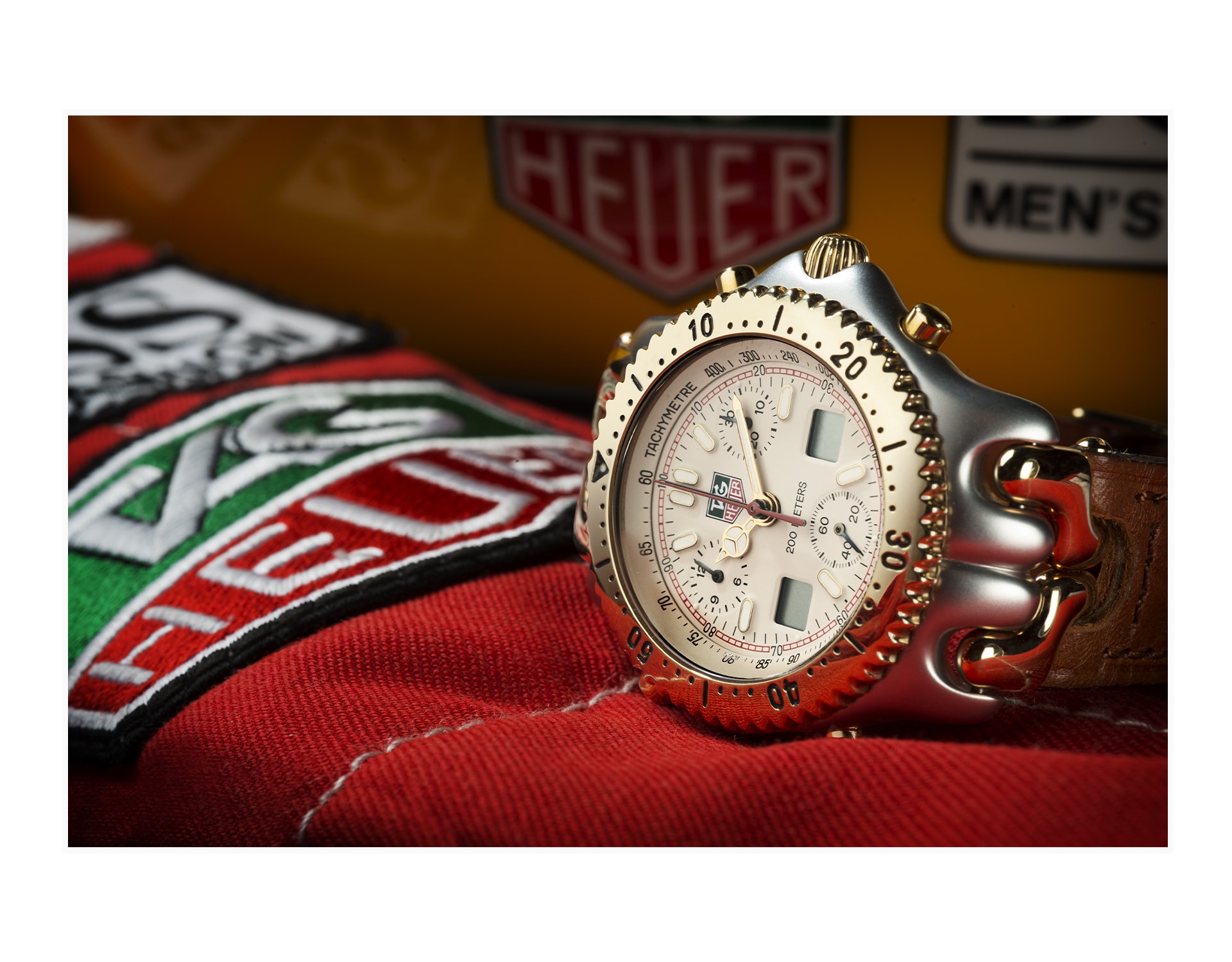 1987
TAG Heuer soon moved upmarket, from its traditional dive watches to watches that would incorporate the most sophisticated designs. Sales materials emphasized that the new S/el watches could be worn with a diving suit or a dinner jacket. Formula One champion Ayrton Senna wore an S/el as his every-day watch, contributing with TAG Heuer on the design of its unique bracelet. The design of this watch was made by Eddy Schöpfer. The series was renamed the "Link" in 1999, a fitting tribute to this distinctive bracelet.
1991
NEW CAMPAIGNS FOR NEW WATCHES
TAG Heuer supported its new portfolio of watches with award-winning advertising campaigns.
The 1991 to 1994 campaign "Don't Crack Under Pressure" celebrated the determination and focus of the brand's ambassadors, such as Michael Schumacher and Ayrton Senna.
From 1995 to 1997, TAG Heuer used the "Success. It's a Mind Game."Campaign, showing how top athletes and achievers push themselves to the limits.
1996
Following the introduction of many new models in the 1980s, by the mid-1990s, TAG Heuer would reconnect with the brand's classic chronographs from the 1960s. In 1996, TAG Heuer relaunched the TAG Heuer Carrera, following the style of the original 1964 model in almost every detail. The Monaco would be re-issued in 1998, with an all-black dial. The TAG Heuer Carrera and Monaco have remained vital models in the TAG Heuer catalog since these first re-issues.
1999
In 1999, leading French luxury-goods group LVMH Moet Hennessy Louis Vuitton acquired TAG Heuer. Jack Heuer, who had been forced to sell the family business in 1982, returned to TAG Heuer in 2001, as the company's Honorary Chairman. He would make appearances all around the world, sharing the heritage of the brand with a new generation of enthusiasts.