OUR HAUTE HORLOGERIE COMPLICATIONS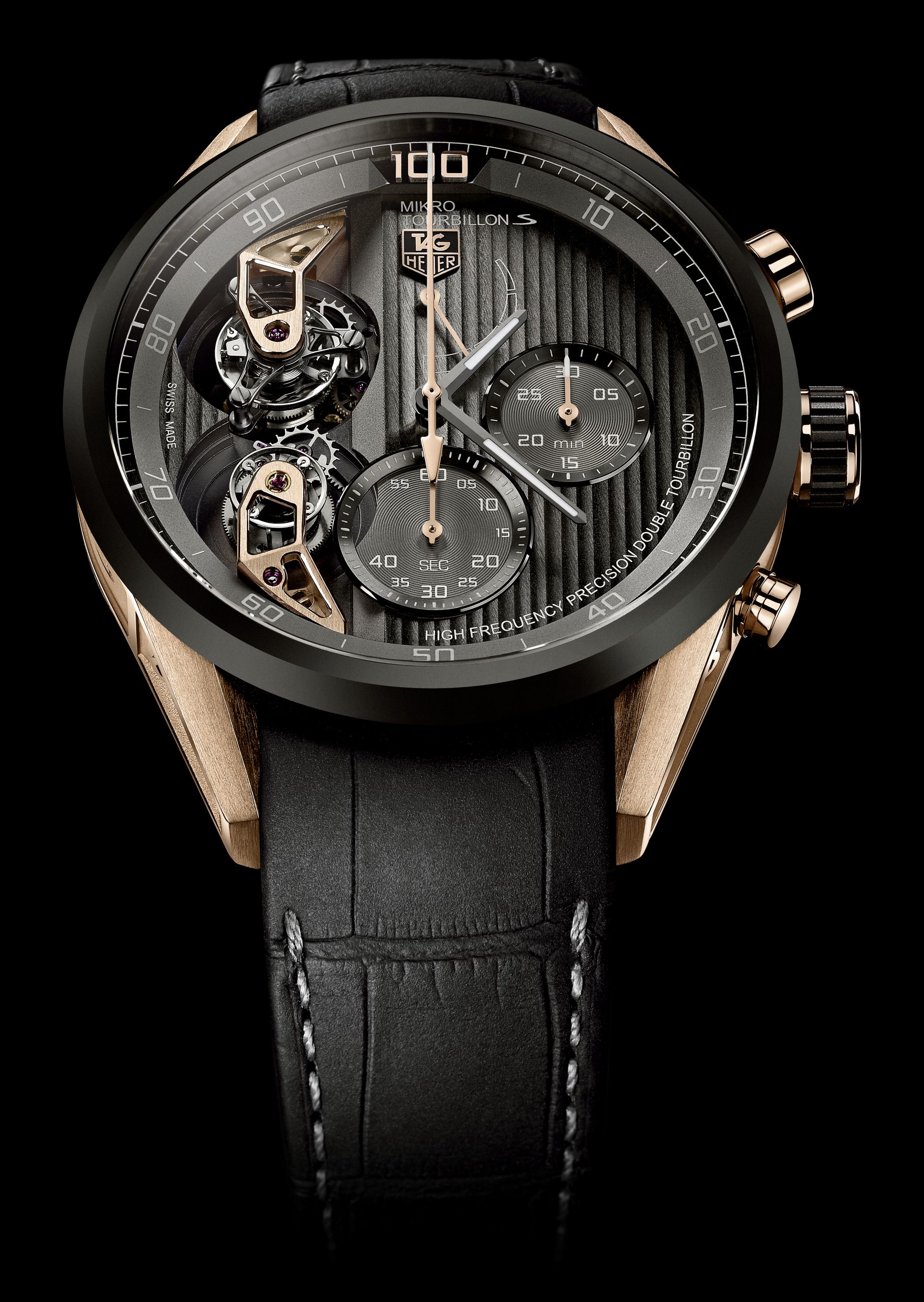 TAG HEUER MIKROTOURBILLONS
The MikrotourbillonS is TAG Heuer's most ambitious luxury chronograph: it is both the world's fastest tourbillon and the first ever to be featured on a 1/100th of a second chronograph that can be started and stopped.
This one-of-a-kind, dual chain and double-barrel timepiece boasts two different tourbillons, one for the watch and one for the chronograph.
By far the fastest and most accurate tourbillon in watchmaking history, the MikrotourbillonS is the first tourbillon chronograph with certification-level precision.
Discover our Tourbillon-equipped watches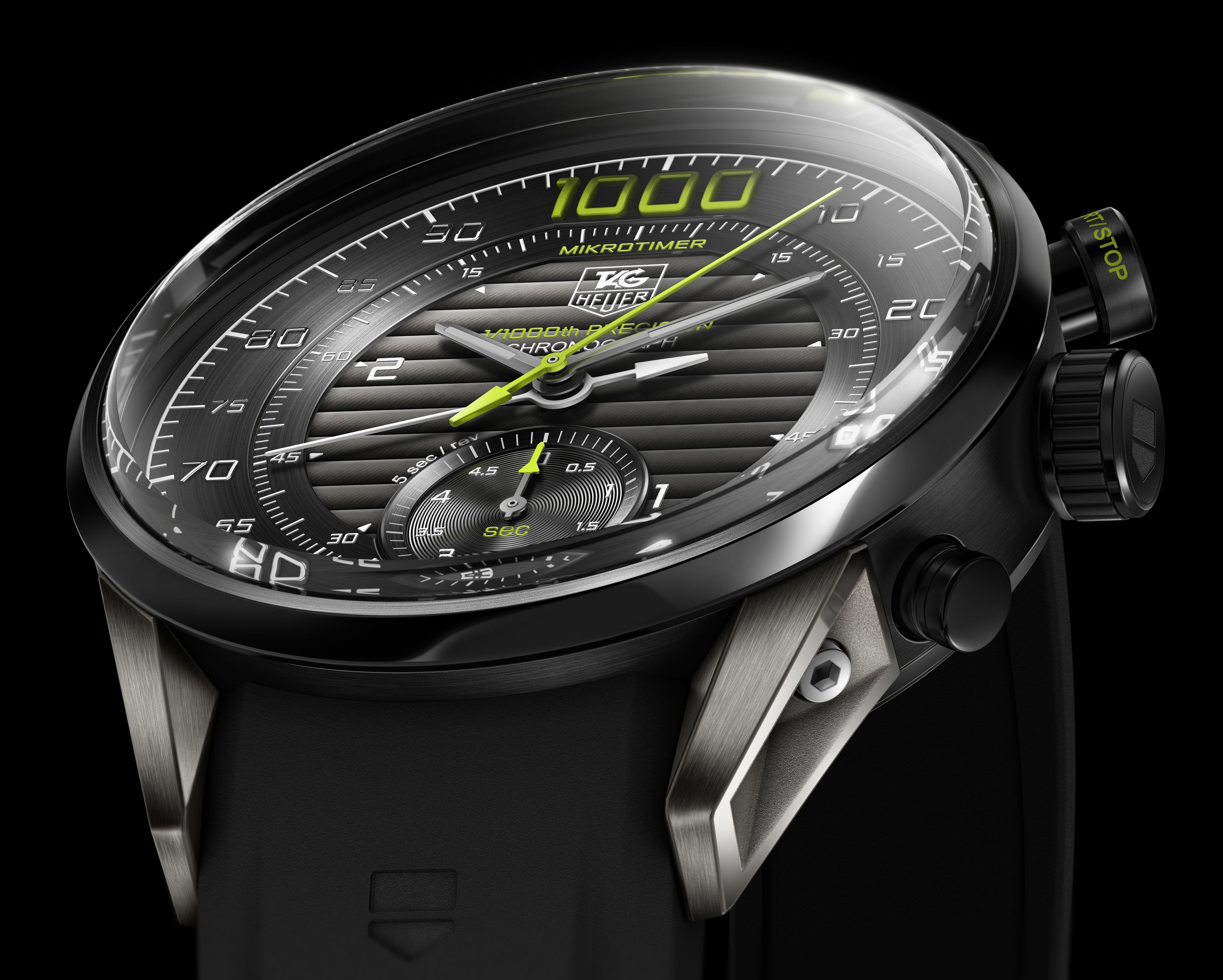 TAG HEUER MIKROTIMER FLYING 1000
TAG Heuer launched the MIKROTIMER FLYING 1000 in 2011, the world's first mechanical chronograph to measure and display the 1/1000th of a second. This technological breakthrough watch revolution takes up the "MIKRO" architecture of TAG Heuer without a balance system.
The Mikrotimer beats at 3.6 million beats per hour, 125 times faster than any standard Swiss chronograph. This watch was elected Swiss Sports Watch of the Year in 2011 at the Geneva Watchmaking Grand Prix.
Discover our chronographs
TAG HEUER CARRERA MIKROGIRDER
This concept defies gravity by reducing the effects of gravity on a new regulator. The innovation consists of a coupling beam/girder and an excitatory beam/girder system working with a linear oscillator (versus a spiral shape in a classic hairspring) vibrating isochronously at a very small angle. 10 patents have been filed for this innovation.
Dramatically reducing the number of isochronous errors, the TAG Heuer Mikrogrinder measures time with phenomenal accuracy to 5/10,000ths of a second, beating at 1,000 Hz or 7,200,000 beats per hour.
The TAG Heuer Mikrogirder won the 2012 Aiguille d'Or, the most prestigious prize of the Geneva Watchmaking Grand Prix.
Discover our chronometers
TAG Heuer Carrera Mikropendulum & MikropendulumS
The Mikropendulum is the first high-frequency, magnet-powered chronograph. The watch features a dual chain with a balance-wheel system, and the chronograph boasts a hairspring-less pendulum system.
All of the dual chain structure's 371 components are designed, crafted, and assembled by the TAG Heuer's Haute Horlogerie team of master watchmakers and engineers.
As for the MikropendulumS, it was unveiled in 2013 at Baselworld. It is the world's first magnetically-regulated chronograph: powerful magnets exert a force on a magnetic pendulum disc, which gives it a reciprocating movement similar to that of a pendulum.
Discover our Tourbillon-equipped watches