60 YEARS AND STILL UNSTOPPABLE
A TESTAMENT TO UNBREAKABLE SPIRIT AND RELENTLESS INNOVATION
The new TAG Heuer Carrera Chronosprint x Porsche pays homage to the iconic sports car with its TH20-08 movement, reflecting the first Porsche 911's, the Porsche 901, acceleration time from 0 to 100 km/h in 9.1 seconds. A superior blend of precision, passion, and avant-garde design.
DISCOVER THE WATCHES
TAG Heuer Carrera Chronosprint x Porsche
Crafted in two thrilling steel and gold versions, the TAG Heuer Carrera Chronosprint x Porsche honours 60th anniversaries of two legends: the TAG Heuer Carrera and the Porsche 911. A watchmaking monument.
SAPPHIRE GLASSBOX FRONT GLASS & CASEBACK
DEDICATED PORSCHE STEERINGWHEEL MASS
TH20-08 MOVEMENT CHRONOGRAPH CHRONOSPRINT
SPECIAL EDITION PACKAGING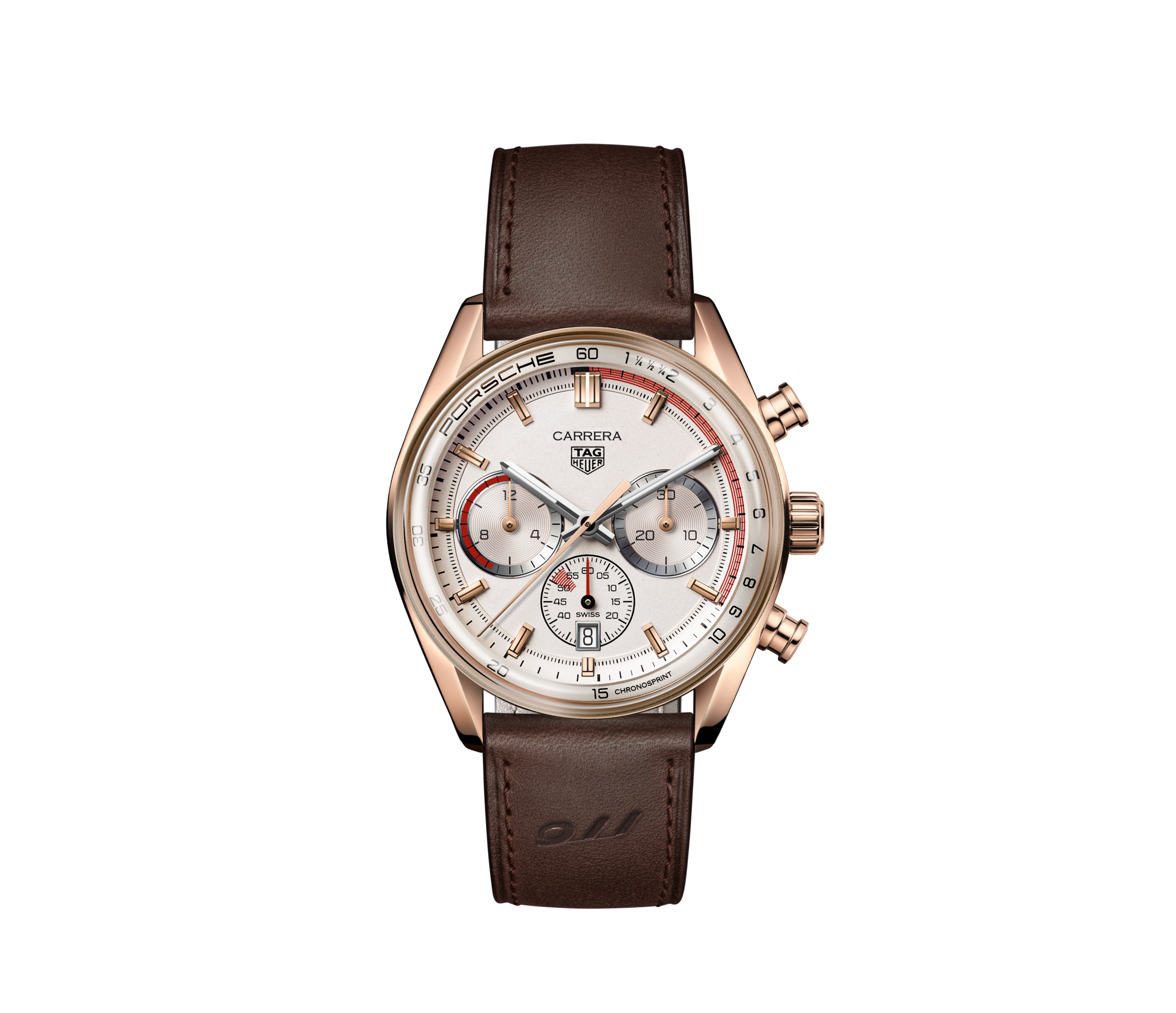 Steel watch

Gold watch
A PARTNERSHIP BASED ON AUTHENTIC HERITAGE
TAG HEUER x Porsche
Two icons of design, quality, and innovation teamed up to craft this special edition. A sporty design full of references to both brands, upholding the excellence of both names without diluting the essence of either, with proud red highlights, and the manufacture Heuer 02 movement beating away inside.
DISCOVER TAG HEUER X PORSCHE PARTNERSHIP
TAG HEUER CARRERA X PORSCHE RS 2.7
Limited Editions
Two distinctive TAG Heuer Carrera x Porsche Limited Editions are being introduced in tribute to one of Porsche's most iconic models and the first 911 to bear the Carrera name: the Porsche 911 Carrera RS 2.7. Two design icons who share an unmistakable name reimagined as one.
DISCOVER THE LIMITED-EDITION TIMEPIECES
tag heuer carrera porsche
ORANGE RACING
Speed is the name of the game in this TAG Heuer Carrera Porsche Special Edition. Paying tribute to the passion for racing shared by TAG Heuer and Porsche, it distills a bright orange inspired by the color of the sparks of heat made by the car on the asphalt.
shop the watch
tag heuer carrera porsche LIMITED EDITION
bold yellow
Born from an iconic partnership between two Maisons, the TAG Heuer Carrera Porsche Limited Edition embodies innovation, prestige and striking luxury. With its daring look, the distinctive shiny black dial draws inspiration from Porsche's distinctive bodywork.
shop the watch
READ MORE STORIES ON THE EDGE MAGAZINE