TAG HEUER
MAISON
We believe that victories in life result from the choices we make every fraction of second.
Today, our ambassadors reflect our mindset, our taste for challenge, and the ability to surpass oneself. #DontCrackUnderPressure is much more than a claim: it is a state of mind.
THE FUEL OF TAG HEUER
The ultimate reference in luxury chronograph watches, TAG Heuer's high-precision timing innovations have kept pace with the evolution of sports since 1860. Our timepieces make it possible to capture every fraction of a second of a performance. From the wrists of the drivers who have marked the history of motor racing to your wrist, TAG Heuer watches have a lasting impact on their time and their era. Shortly after its inception, TAG Heuer introduced the Mikrograph - a mechanical chronograph five times more accurate than any other - and became the official timekeeper for the most famous sports competitions. With the arrival of motorsports, TAG Heuer became the first watchmaking brand to sponsor the Formula 1 World Championship since its creation.
LEARN MORE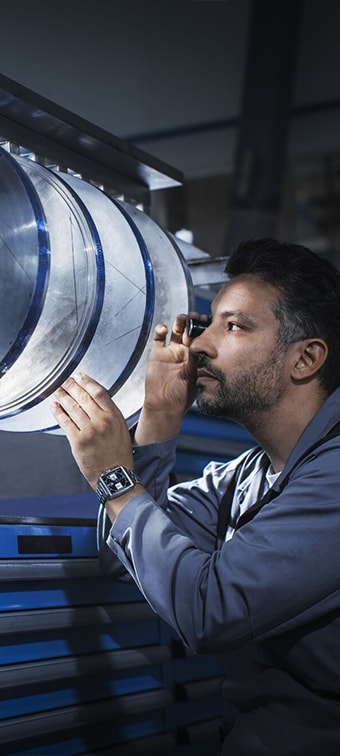 TIME BY TAG HEUER: HIGH PERFORMANCE AND CONTROL
Innovation as a profession of faith since 1860: from the first luxury Connected Watch in 2015 through improving the oscillating pinion in 1887. From inventing the first self-winding crown mechanism to the first-ever double magnetic tourbillon. Four production sites, our own manufacture: TAG Heuer has continued pushing the limits of watchmaking technology with innovations and savoir-faire. TAG Heuer has spearheaded innovations that have left their mark on history and still define the foundations of the watchmaking industry today. Each of our Swiss-made watches exudes our know-how and our high precision standards.
DISCOVER OUR SAVOIR-FAIRE
ONE STEP AHEAD
When knowledge, through our TAG Heuer Institute, and savoir-faire combine to continue a living history that is centuries-old. Two disciplines, one single momentum. To make records and then break them. To capture time in the perfect split-second. Every single seconds is another step towards victory. To take the turn and know how to master the now. Now is when the future is made.
DISCOVER OUR AVANT-GARDE WATCHES
OUR HERITAGE, OUR FUTURE
Since 1860, TAG Heuer has been combining technological innovations and precision timing. Committed to the world of sport, particularly motor racing, we have created the world's most accurate timing instruments, achieving an accuracy of 5/10,000ths of a second. This know-how is infused in every collection and every piece. From the TAG Heuer Carrera to the Autavia or Monaco watches, our timepieces stem from cutting-edge research at the forefront of the watchmaking industry. Masterfully designed, each of these collections has gained an iconic status.
DISCOVER OUR HISTORY
OUR ENGAGEMENT
Trustee of exceptional cultural heritage for 160 years, TAG Heuer also plays an essential role in preserving natural heritage thanks to an ethical approach applied to all of its timepieces creations.