UNIVERSE
SAILING
Building on its successful forays in high-end sailing as early as 1888, TAG Heuer is joining forces with FlyingNikka to reignite its passion for speed and innovation in the water racing universe.
For decades, TAG Heuer pushed the boundaries of sailing technology with future-forward events and partners like America's Cup or Team Oracle and is now set to spearhead the next ground-breaking sailing ventures.
TAG Heuer
A THRILLING COMEBACK
Driven forward by its legacy of adrenaline-filled endeavours in the world of motor racing, TAG Heuer is ready to expand its horizon and reconnect with its sailing DNA. Through its exciting new partnership with FlyingNikka - a racing yacht at the leading edge of high-performance sailing technology - the Maison further demonstrates its undeterred knack for technical brilliance and avant-garde prowesses in the field of high-end competitive racing.
Partnership
THE WIND IS OURS
A new era in high-performance sailing is on the horizon. At the cutting edge of this technological race, the world's first-ever Mini Maxi with foils, FlyingNikka is leading the future of sailing with incredible panache. Bound by their shared passion for avant-garde design, state-of-the-art technology, and excellence in the field of competitive racing, TAG Heuer and FlyingNikka are joining forces towards record-breaking successes.
FlyingNikka
SAILING AVANT-GARDE
Designed by renowned naval architect Mark Mills, FlyingNikka is engineered to cut through the waves at outstanding speeds. A complex and revolutionary creation, this 19-meter-long speed machine combines cutting-edge design with daring innovations to reach unprecedented performances. With a hull made of superior carbon fibre composites, a towering wing sail, and advanced hydrofoils, it can fly over the waves at speeds of up to 40 knots. Unparalleled.
Innovation
TOWARDS NEW HORIZONS
A superior, pioneering yacht, FlyingNikka carries the promise of record-breaking performances on the water. The boat's skipper and owner, Roberto Lacorte is set to participate in prestigious sailing competitions in 2023: the Regatta di Primavera in Portofino, the 151 Miglia-Trofeo Cetilar race in Livorno, the Giraglia race from St. Tropez to Genoa, and the Sardinia Maxi Race in Porto Cervo. Nothing can stop this born racer, proudly bearing the TAG Heuer shield.
Helmsman - Skipper
Roberto Lacorte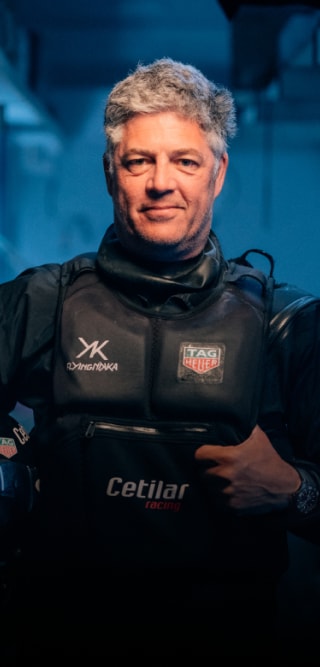 Helmsman - TEAM MANAGER - foil control
Alessio Razeto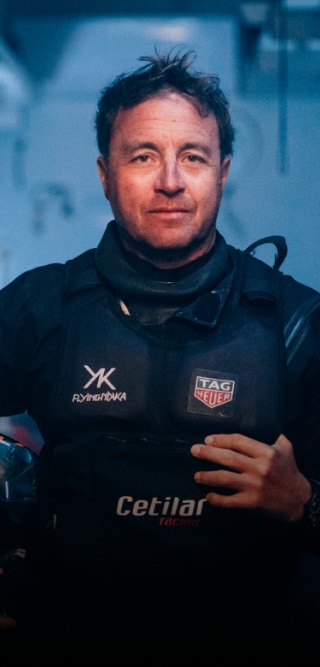 Helmsman - Tactician - foil control
Lorenzo Bressani
Main trimmer
Enrico Zennaro
Headsail trimmer
Lorenzo De felice
Navigator - System supervisor
Andrea Fornaro
TAG Heuer Aquaracer Solargraph
A SKIPPER'S BEST ALLY
The FlyingNikka sailing team wears the TAG Heuer Aquaracer Professional 200 Solargraph, a robust and innovative solar-powered tool-watch, perfect for any outdoor adventure.
FIND OUT MORE
FlyingNikka - Photo Fabio Taccola©.