LIMITED INTERNATIONAL SALES WARRANTY
Your TAG Heuer has been manufactured in the strict tradition of Swiss watchmaking and has been individually tested to ensure that it is water-resistant and functions perfectly. Nevertheless, it is covered by a limited International guarantee against any manufacturing defect for a period of two years from the date of purchase, under the conditions below. With this two- year limited guarantee, TAG Heuer undertakes to repair, free of charge, any problem with the functions of the watch that result from defective manufacturing. This guarantee is only honored in Official TAG Heuer Service Centres that are present in more than 100 countries. In addition, certain restrictions do apply and for this reason it is essential that you read the following paragraphs.
To benefit from this limited guarantee the following conditions must be met: The international guarantee card, located in the guarantee booklet you received with your watch, must be enclosed with the watch when it is sent for repair and must be signed and dated at the time of purchase by an approved TAG Heuer retailer or, by a dedicated TAG Heuer Boutique; TAG Heuer will not honor the guarantee for watches sold without a valid guarantee card properly filled out and signed by an approved TAG Heuer retailer or by a dedicated TAG Heuer Boutique; the serial number engraved on the case is perfectly legible and no part of the original case back or original serial number has been removed, modified, falsified, altered , replaced, erased or rendered illegible. If any of these conditions are not met, all rights attached to the TAG Heuer international guarantee system will be cancelled.
Any defects resulting from actions carried out anywhere other than an Official TAG Heuer Service Centre are not covered by this guarantee and will render it null and void. The limited guarantee also does not cover bracelets, crystals and batteries, or any deterioration of the case or movement due to humidity that has entered the watch as a result of improper handling. More generally, it does not apply if there has been improper or inadequate use of the watch.
General conditions and restrictions
This guarantee automatically cancels and replaces all other guarantees incorporated in national legislation, including the implied warranty of merchantability. Certain local regulations may forbid the exclusion or limitation of accessory or indirect damages, in which case the limitation or exclusion of the above-mentioned guarantee does not apply. This guarantee gives you specific rights and local regulations, that vary between countries, may give you others. Only TAG Heuer and its Official Service Centres are entitled to decide to repair or perform any other action concerning a TAG Heuer watch covered by this international guarantee.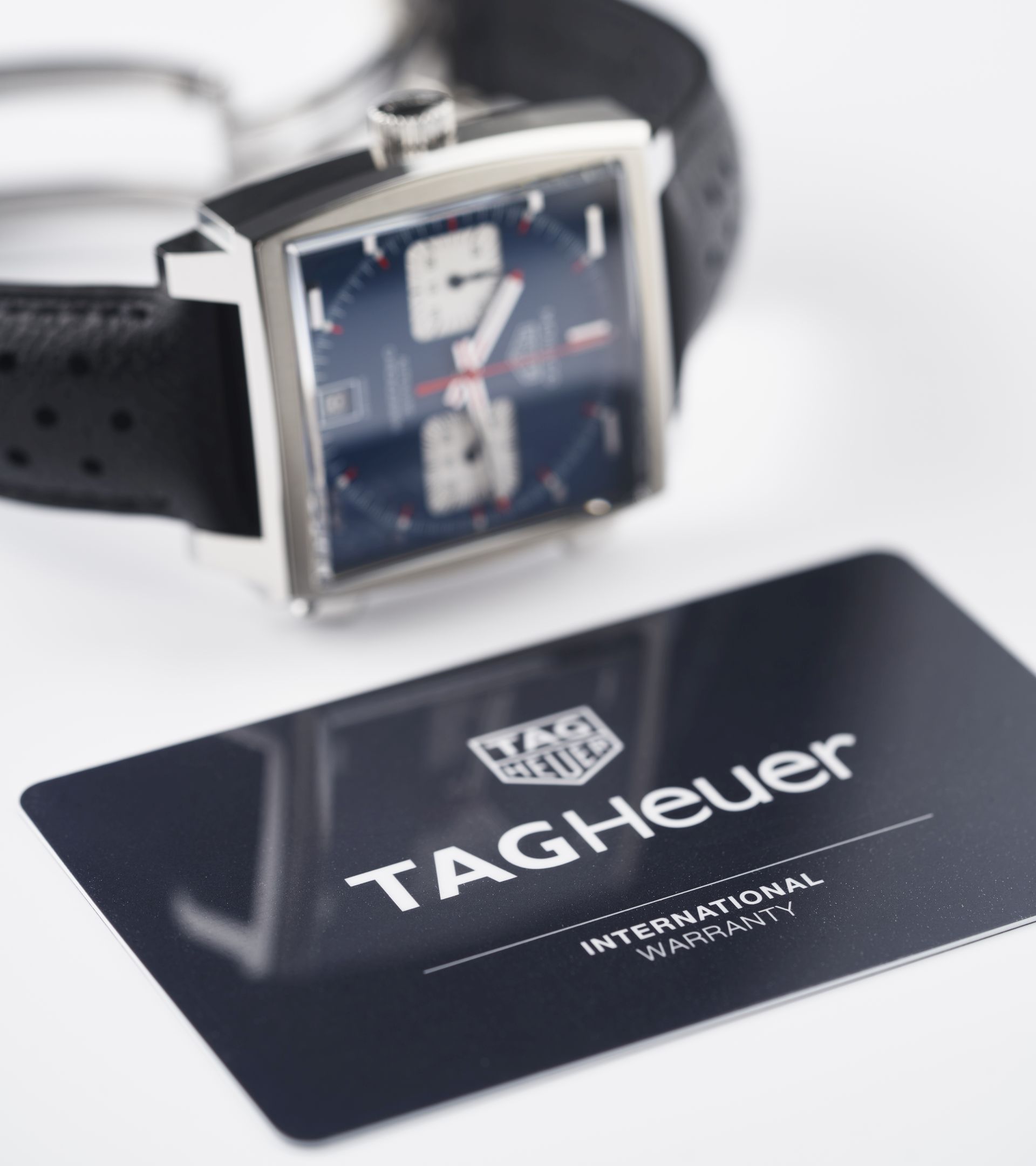 INTERNATIONAL REPAIR WARRANTY
Following maintenance carried out in an Official TAG Heuer Service Centre, an international repair warranty card is provided with your watch. This extends the warranty on the work carried out by one year.
A number of recommendations are given under the heading "FAQ and Services" for the use and maintenance of your TAG Heuer watch; please read them carefully as the warranty will become invalid in the event of incorrect use or treatment. In particular, ensure that the crown is fully screwed down after adjusting for day, date or time to ensure water-resistance. Damage resulting from service provided anywhere other than at a Official TAG Heuer Service Centre is not covered and shall void the warranty. The limited warranty does not cover bracelets, crystals or batteries, or any damage to the case or movement caused by moisture that might have entered the watch as a result of improper handling, nor does it apply, on a more general basis, if there is evidence of misuse or abuse.
This warranty replaces any warranties implied by some countries' local law, including the implied warranty of merchantability, which are disclaimed. Some countries' local law may not allow the exclusion or limitation of incidental or consequential damages, so the above limitation or exclusion may not apply to you. This warranty gives you specific legal rights and you may also have other rights under local laws which vary from country to country.